From the Top announced today that 20 high school and early college musicians from Greater Boston have completed a Year-Long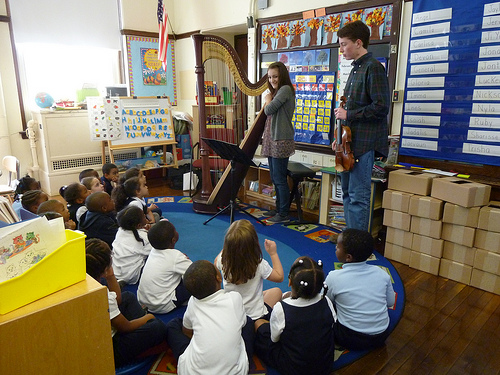 Intensive Arts Leadership Program. The Year-Long Intensive Arts Leadership Program is a pilot project of From the Top's Center for the Development of Arts Leaders (CDAL), which prepares young musicians across the country to be instruments of change in their communities through multiple pathways. From the Top believes kids and music are key ingredients in affecting positive change.
Since January 2011, 20 teens and four young professional mentors have participated in a series of leadership retreats and applied service projects. They were each required to spend 20 hours a month, collaborating in teams to design and implement projects at five Boston area community partner sites, collectively reaching hundreds of Massachusetts school children, elderly, and cancer patients. The teens will showcase their work and learning at a public exhibition on Saturday, January 21, 2012 from 7-9pm at City Year Headquarters in Boston.
"Our ten years of producing From the Top events and broadcasts have taught us that young people can make an important impact on the world by sharing who they are and what they love to do," says From the Top co-CEO Gerald Slavet. "We are inspired by the level of commitment that these young arts leaders have shown for music and service through this year-long program."
"From the Top's Center for the Development of Arts Leaders is a uniquely positioned opportunity to inspire a movement of young musicians to redefine what it means to be a musician today – from performer to engaged citizen artists," says From the Top co-CEO Jennifer Hurley-Wales. "Our hope is to expand our Year-Long Arts Leadership Program in Boston and beyond, and the successful completion of this pilot shows great promise for the future."
From the Top's Center for the Development of Arts Leaders is a new initiative and reflects From the Top's long-term commitment to developing teen musicians as leaders who are active in giving back to their communities. Through this pilot effort in Boston, From the Top has expanded the footprint of its leadership programs and its local impact. A rigorous evaluation conducted by WolfBrown will be released in early spring 2012 and disseminated nationally.
The five projects completed by From the Top's arts leaders between January 2011 and January 2012 included:
At the AstraZeneca Hope Lodge (American Cancer Society) in Jamaica Plain, From the Top arts leaders designed special performance events and other activities that involved residents and created community within an atmosphere of healing. They will leave Hope Lodge with a CD of music chosen by guests. Team members include: Kassie Eberle, Mentor; Keith Williams, 16, of Boston; Lillian Hexter, 17 of Boston; Molly Lowrie, 16, of Belmont; Ryan Shannon, 19, of Boulder, Colorado (NEC student); and Rachel Steinberg, 17, of Stoughton.
At the Conservatory Lab Charter School in Brighton, the From the Top team assisted with after school group instruction, and helped in laying the foundation for an outreach effort that aims to establish Somerville as an El Sistema nucleo site. In late October, they helped to plan and publicize a concert that introduced the idea of bringing the El Sistema model of music education to Somerville Public Schools. Team members include: Brian Kaufman, Mentor; Edalina Wang, 15, of Boston; Elizabeth O'Neill, 19, of Arlington, VA (NEC student); Graziella Oliveira, 16, of Somerville; Karolina Nunes, 21, of Somerville.
At Goddard House, Assisted Living in Brookline, team members used music as a means to engage residents who may be struggling with memory loss. The young musicians also executed a personal narrative project where they recorded resident stories and favorite musical pieces to build bridges between the residents and service staff, who come from different racial, economic and language backgrounds. Team members include: Michael Dahlberg, Mentor; Dante Velasquez, 17, of Boston; John Carney, 17, of Boston; Madeline Bauer, 16, of Needham; Tiffany Cheng, 15, of Cambridge; William Hess, 14, of Milton.
At Chittick Elementary School in Mattapan, From the Top arts leaders shadowed the Boston Public Quartet and aided in their after-school chamber music program called MusiConnects. The From the Top arts leaders also regularly visited two kindergarten classrooms to introduce children to all the major instrument families and build their interest in studying music later on. The team also planned and performed a benefit concert to support the after-school program at Chittick Elementary. Team Members include: Kassie Eberle, Mentor; Anna Deloi, 16, of Plaistow, NH; Nash Ryder, 16, of Arundel, ME.
At the Roland Hayes School of Music in Roxbury, From the Top arts leaders have worked to build an audience for the school's annual concert series and to raise awareness about the school as a city-wide resource for Boston students. Team Members include: Eric Ortiz, Mentor; Carson Lloyd, 16, of Duxbury; Clifton Williams, 19, of Washington, DC (Berklee School of Music student); Shiya Wang, 21, of Flushing, NY (Harvard University student); Yun-Jae Lee, 15, of Wayland.